Tire Buying Tips and Tire Maintenance
Looking for the best price on a new set of name-brand tires? A quick tire rotation or tire inspection with no appointment? Quick Lane® is Ready To Serve™. Our factory-trained experts are committed to making sure your tires are safe and ready for the road. And we have seven name-brand tires for you to choose from, including Michelin, Goodyear, Continental Tire and more.
Rotating your tires helps to distribute wear more evenly, so you can get more life out of them.
Properly inflated tires are crucial to your vehicle's handling and safety. Regular tire rotations help distribute wear more evenly and can help you get more life out of them. But do you know what to look for when your tires are worn? Quick Lane® is Ready To Serve™ and can help you choose a new set of tires.
Tire tread depth of less than 3/32″ or tire treads that don't reach the top of Lincoln's head on an upside-down penny
Punctures, cuts or snags in your tire tread or sidewall
Sudden loss of tire pressure
Your tire wear indicator is visible
Sudden vibration when driving
Poor handling or traction on slippery surfaces
How to Change a Flat Tire
If you don't have your cell phone handy to call a tow truck or aren't able to wait, here's what to do. Consult your vehicle owner's manual for details specific to your vehicle, such as the location of the spare and jack kit. Be aware of your surroundings. If you do not feel safe, never hesitate to call the local police for help
Remove the spare tire and jack from your vehicle. Check the inflation level of your spare. If its pressure is too low, you'll need to find a place where you can inflate it, or call a tow truck.
Your jack kit should include a tire iron for removing the lug nuts. Use it to loosen the lug nuts on the flat tire, but don't remove them yet. If you need to use a lot of force to get them loose, you don't want to do it while the vehicle is already jacked up.
Block the other tires to make sure the vehicle doesn't roll.
Raise the corner with the flat tire high enough off the ground to put the spare tire on. Avoid raising the vehicle any higher than you need to.
Finish removing the lug nuts from the flat tire and pull it off.
Put the spare tire on the vehicle.
Replace the lug nuts, but don't tighten them yet.
Lower the vehicle by turning the jack in reverse.
Tighten the lug nuts. After a few turns, rotate clockwise to tighten the next lug nut. Repeat this process until each lug nut is securely in place.
 Stop by Vacaville Quick Lane Tire & Auto Center for a replacement tire as soon as you can. If you have to use highways to get there, keep your vehicle under 55 mph and use your hazard lights. Most spare tires are not designed to handle high speeds for long periods of time.
LOW PRICE TIRE GUARANTEE*
We'll beat any price on the 16 major tire brands we sell. GUARANTEED!
*Valid on Quick Lane®-installed retail purchases only. Requires presentation of competitor's current price ad/offer on exact tire sold by Quick Lane within 30 days after purchase. For online quotes, guarantee applies only to new tires sold on retailer websites. Excludes tires sold by third parties on marketplace sites and any resellers. Available only in the United States. Quick Lane® is a registered trademark of Ford Motor Company. See Quick Lane® Service Advisor for details. Expires 12/31/21.
Print This Coupon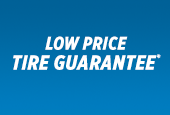 Get up to a $100 rebate by mail or earn up to 31,000 FordPass™ Rewards bonus Points when you buy four select tires. *
On these name brands: Goodyear, Dunlop, Michelin,® BFGoodrich,® Uniroyal, General Tire, Pirelli,® Bridgestone, Firestone, Yokohama,® Toyo® and Nitto.®
FordPass Rewards members also earn 10 Points per $1 spent on service visits, for a total Point value of over $150.
*Quick Lane®-installed retail purchases only. Limit one offer per vehicle. $100 tire rebate or 31,000 FordPass Rewards Points on Bridgestone. $70 tire rebate on Michelin tires with an additional $30 service allowance rebate or 31,000 FordPass Rewards Points. $70 tire rebate or 25,000 FordPass Rewards Points on Goodyear, Dunlop, Pirelli, Firestone, Yokohama and Toyo. $60 tire rebate or 23,000 FordPass Rewards Points on BFGoodrich and General. $50 tire rebate or 21,000 FordPass Rewards Points on Nitto. $40 tire rebate or 20,001 FordPass Rewards Points on Uniroyal. Medium/commercial Toyo tires are excluded. Must be enrolled in FordPass Rewards to receive FordPass Rewards bonus Points. Points are not redeemable for cash. See the FordPass Rewards Program terms and conditions at FordPassRewards.com for information regarding expiration, redemption, forfeiture and other limitations on FordPass Rewards Points. Offer valid 7/1/21 to 8/31/21. Submit rebate by 9/30/21 by mail-in rebate form or online at QuickLane.com. Cannot be combined with any other tire manufacturer-sponsored rebate/offer. See Quick Lane® Service Advisor for vehicle applications and offer details Expires 8/31/21. Quick Lane® is a registered trademark of Ford Motor Company.
Print This Coupon