FIRESTONE / "INNOVATION AND QUALITY SINCE
The Firestone Tire and Rubber Company was founded by Harvey Firestone in Akron, Ohio on August 3, 1900. The company originally manufactured tires for wagons, buggies, and other forms of wheeled transportation common in the early 1900's. It did not take long for Mr. Firestone to realize the huge potential for marketing tires for automobiles. As a result, Firestone was a pioneer in the mass production of tires and supplying tires to automotive manufacturers as original equipment. Firestone also has a history steeped in racing tradition. Firestone tires were outfitted on Ray Harroun's Marmon Wasp that won the inaugural Indianapolis 500 in 1911 and to this day Firestone equipped cars have won more Indianapolis 500s than ALL other tire manufacturers combined. In 1988, the company was purchased by Bridgestone corporation to form the world's largest tire and rubber company, a title it maintains to this day.
Firestone tires are developed to provide exceptional value for customers, offering great tires at a competitive price. Our product lines include Firehawk performance tires, Precision touring and performance tires, Destination light truck & SUV/CUV tires, Transforce light truck commercial tires, FR series mass market tires and Winterforce winter tires.
LOW PRICE TIRE GUARANTEE*
We'll beat any price on the 16 major tire brands we sell. GUARANTEED!
*Valid on Quick Lane®-installed retail purchases only. Requires presentation of competitor's current price ad/offer on exact tire sold by Quick Lane within 30 days after purchase. For online quotes, guarantee applies only to new tires sold on retailer websites. Excludes tires sold by third parties on marketplace sites and any resellers. Available only in the United States. Quick Lane® is a registered trademark of Ford Motor Company. See Quick Lane® Service Advisor for details. Expires 12/31/21.
Print This Coupon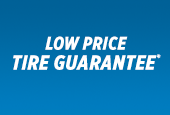 Get up to a $100 rebate by mail or earn up to 31,000 FordPass™ Rewards bonus Points when you buy four select tires. *
On these name brands: Goodyear, Dunlop, Michelin,® BFGoodrich,® Uniroyal, General Tire, Pirelli,® Bridgestone, Firestone, Yokohama,® Toyo® and Nitto.®
FordPass Rewards members also earn 10 Points per $1 spent on service visits, for a total Point value of over $150.
*Quick Lane®-installed retail purchases only. Limit one offer per vehicle. $100 tire rebate or 31,000 FordPass Rewards Points on Bridgestone. $70 tire rebate on Michelin tires with an additional $30 service allowance rebate or 31,000 FordPass Rewards Points. $70 tire rebate or 25,000 FordPass Rewards Points on Goodyear, Dunlop, Pirelli, Firestone, Yokohama and Toyo. $60 tire rebate or 23,000 FordPass Rewards Points on BFGoodrich and General. $50 tire rebate or 21,000 FordPass Rewards Points on Nitto. $40 tire rebate or 20,001 FordPass Rewards Points on Uniroyal. Medium/commercial Toyo tires are excluded. Must be enrolled in FordPass Rewards to receive FordPass Rewards bonus Points. Points are not redeemable for cash. See the FordPass Rewards Program terms and conditions at FordPassRewards.com for information regarding expiration, redemption, forfeiture and other limitations on FordPass Rewards Points. Offer valid 7/1/21 to 8/31/21. Submit rebate by 9/30/21 by mail-in rebate form or online at QuickLane.com. Cannot be combined with any other tire manufacturer-sponsored rebate/offer. See Quick Lane® Service Advisor for vehicle applications and offer details Expires 8/31/21. Quick Lane® is a registered trademark of Ford Motor Company.
Print This Coupon